Amazon Hub Locker Division
Are you interested in Hosting an Amazon Hub Locker?
You have come to the right place. Our team is responsible for working with potential hosts to determine if a location qualifies to have an Amazon Hub Locker installed.
Monroe Systems for Business is an Amazon Channel Partner
As a Channel Partner for Amazon, Monroe is assisting with the development of the Amazon Hub package locker program both in retail and multi-family environments within the United States of America. Monroe is identifying potential retail host locations to be evaluated for the Amazon Hub Locker systems. For Multi-family properties evaluating package locker systems, we invite you to contact us so our team can review building plans and unit counts needed for determining the correct Amazon package locker system. To better explain Amazon Hub Lockers and how they work, please see the information below. We also welcome you to call us at 267-580-2633 to speak directly with our team about this program.

Hosting an Amazon Hub Locker system has its benefits
Increasing foot traffic to your location (Current Host's see an average of 350-600 Locker visits per month)
Providing your customers with another reason to visit your retail location
Customers and visitors alike will be comforted in knowing that your location is keeping their Amazon packages safe - providing a subliminal message of feeling more secure at your location
Becoming a Host location before a competitor does
Potential for unique advertising opportunities
Ability to market to new customers
All hardware and maintenance is provided by Amazon at no-cost to Host locations
And more!
To learn more or apply, call 267-580-2633, or fill out the form located at the bottom of this web page.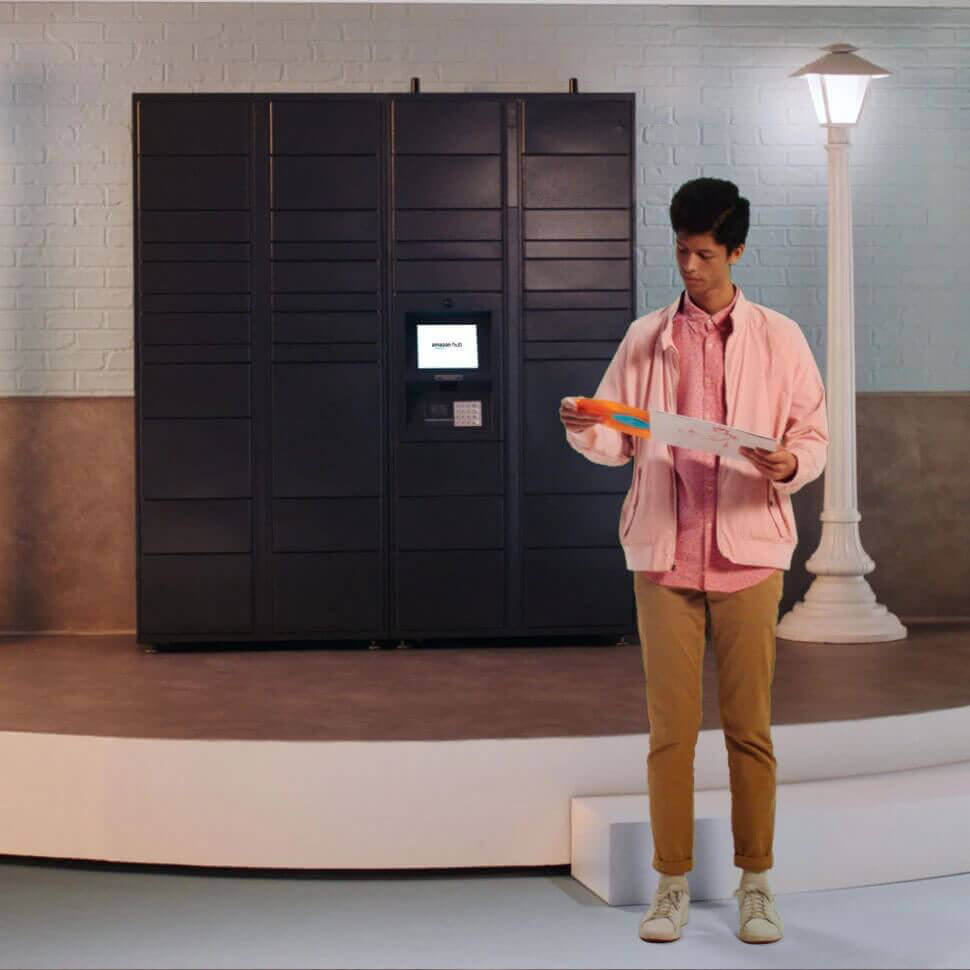 Watch How Customers Use Amazon Hub Lockers

Amazon Customers Find Using Amazon Hub Lockers Quick, Easy, and Convenient!
In addition to Amazon customers having an easy way to pick up securely delivered packages, Amazon aims to install these locker systems in retail areas so customers can add secure Amazon package pickup to their normal shopping routines.

Frequently Asked Questions About Amazon Hub Locker
1.

What are Amazon Hub Lockers?
Amazon Hub Lockers are secure, self-service kiosks where you can pick up Amazon.com packages at a time and place that is convenient for you.
2. How do I use a Locker?
To use an Amazon Hub Locker as your shipping destination, find a Locker and add it to your Amazon address book. Then, during checkout, select the Locker as your shipping address. Once your package has been delivered, we will email you a unique 6 digit code. Simply visit your selected Locker and enter the code on the Locker's touchscreen, then remove your package after the Locker's door opens. Learn more about picking up a package from an Amazon Hub Locker here.
3. How much does using an Amazon Hub Locker cost?
There is no additional cost to use an Amazon Hub Locker. FREE Two-Day Shipping is available with Amazon Prime. Standard shipping rates apply for all other orders.
4. How long do I have to pick up my package?
You have 3 calendar days to pick up your package. If you're not able to collect your package within this time-frame, it will be returned for a refund.
5. What kind of items can be delivered to an Amazon Hub Locker?
Most items on Amazon.com can be delivered to Lockers, but there are a few restrictions, like the item's size and weight. Learn more about Amazon Hub Locker eligible items here.
6. Where are Amazon Hub Lockers located?
Amazon Hub Lockers are located in more than 900 cities and towns across the U.S. To search for Amazon Hub Lockers near you, go here.
7. Can I return an item to an Amazon Hub Locker?
Yes. If your item is eligible to be returned to a Locker, you will see Amazon Hub Locker as a Drop-off option during the returns process on Amazon.com.
10. I noticed that a Locker has damage (e.g, graffiti, dents, etc). What should I do?
Please report any damage here.
11. I have an Amazon Hub Locker at my business and I would like to report an issue. What should I do?
Please report the issue here.
Please enter your information below if you would like to learn more about hosting Amazon Hub Locker. We ask that you also list your property/store hours and type of business/property that you have in the Question/Comment section below.