The Monroe Brightness Test
To begin the test, simply type the maximum number of digits into your calculator.
Now compare the furthest right-hand digit to the furthest left-hand digit. If you see a difference in digit display brightness from right to left, you are straining your eyes and it's time for a new Monroe calculator.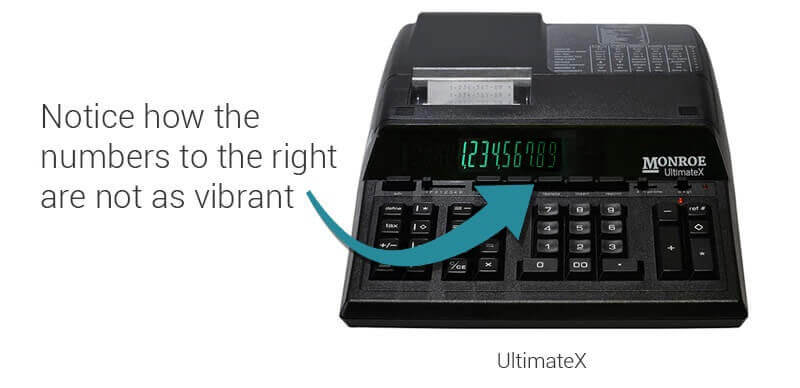 Why does this happen? Display fading is a result of having the calculator powered on for extended periods of time where the visible digits stay lit. This is something that will develop after years and years of use.
Additional signs that your calculator should be replaced:
Detecting Printing & Display Issues

Have you noticed a digit or function entry is not showing on your calculator's display? That tells us the key is not making proper contact.

Have you noticed an empty space, where a digit or function should have been on your printed audit trail? That is caused by the printer dropping digits and means your printer is starting to fail.
Detecting Keyboard Issues

Do your keys feel flimsy or less responsive than they once did? Our UltimateX keyboards offer the highest quality keyboard technology in the calculator industry. The UltimateX uses independent key switch technology (IKT), which provides incredibly responsive keys and the softest touch.

Are the symbols on the tops of your keys worn off? Our heavy-duty calculators feature long-lasting 10-digit key tops. They are manufactured to include two plastic layers, not coated keys. Coated digit keys are essentially a fancier way to imprint a number, but they will show signs of wear over time.
Want to talk with a human?
Call (267) 580-2600. We're open daily Monday through Friday from 8am – 5pm ET