Joe Spurka: Leading Monroe's Administration with a New Vision
We caught up with Monroe employee Joe Spurka, who was recently promoted to Administrative Manager. Joe fills the role of 25-year Monroe veteran Mary McGrogan, who played an integral role in shaping many company processes and in helping to maintain a positive work culture. Joe welcomes the challenge of a new position, learning the operations side of the business and everything that goes into assuring Monroe runs smoothly. Here's what Joe had to say about his new role:
Monroe: You've filled some big shoes. How has your transition been into the new Administrative Manager role?
Joe: My transition into the Administrative Manager role has been a great learning experience. Coming from sales, it's interesting to learn the operations side and everything that goes into assuring Monroe runs smoothly. Mary has been a huge part of Monroe for the past 25 years, and I appreciate the knowledge she's passed on to me in the last two months.
Monroe: When did you officially take on the new role of Administrative Manager?
Joe: I started training for the role on Feb 1, 2019, 4 hours a day, while the other 4 hours are still in the sales role. March 1, 2019, was the official transition date, taking on the day-to-day tasks, while still learning the various responsibilities throughout the month.
Monroe: How has your experience from your previous position as Key Accounts Manager helped you in this new role?
Joe: Being in sales for so many years has helped me understand how to relate to customers, as well as with coworkers within other departments of the company. Having an understanding of our customers' needs helps me understand not only the importance of communication but also how the behind-the-scenes tasks play an important role in keeping customers happy and their trust in our products and our people.
Monroe: How many years have you been with Monroe? What have been some of the positions that you have held while you were at Monroe?
Joe: I started with Monroe in 2001 as a part-time warehouse associate, filling orders, writing up returns, etc. In 2003, I started as an inside sales rep, and transitioned into a key accounts manager, managing my own sales territory, as well as the larger national accounts.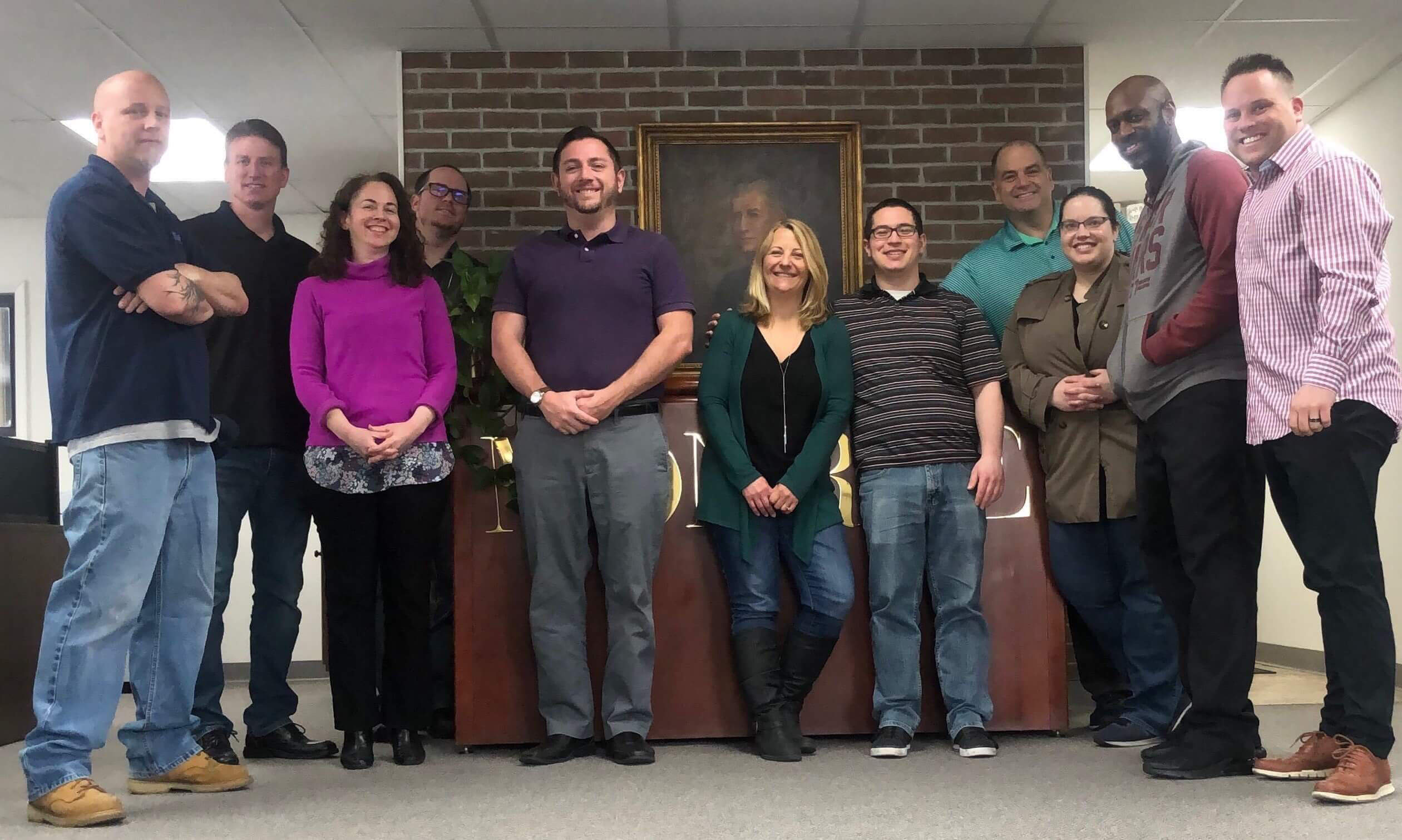 Pictured, from the left, are Jim Ruths, Joe Spurka, Mike Prasch, Julie Greenbaum, Anthony Mango, Mary McGrogan, Joe Amoriello, Bill Ault, Nicole Rosenblatt, Keaten Austin, and Jason Marsdale.
Monroe: What are some of your responsibilities as an Administrative Manager?
Joe: Some of the responsibilities of the Administrative Manager are to lead the customer service team, oversee order processing, and basic accounting applications, including accounts payable and accounts receivable, and reconcile bank reports, customer returns, and collections.
Monroe: What are some of your goals in this new role?
Joe: Be the best leader I can be. I feel communication is the key to keeping operations running smoothly within the department, as well as with other departments within the company.
Monroe: How do you like the position so far?
Joe: I'm enjoying the position so far. I've learned so much already and look forward to continuing to be a key part of the smooth operation of Monroe.
Monroe: How has it been working with the Monroe sales and custom service team in this new role?
Joe: Besides learning a ton of new tasks, there hasn't been too much of a change as to the relationships with coworkers in the office. I've always had a great relationship with Maria Haney and Nicole Rosenblatt and they've been extremely supportive in the transition. Mike Prasch, Business Development Executive, has also offered extra assistance in handling calls and taking care of customer needs outside his territory of accounts.
I'm thankful for the opportunity and for the confidence Bill Ault, Chief Operating Officer, and Jason Marsdale, Vice President of Sales and Marketing, have in me to take on more responsibility and continue the successful growth of Monroe.
Recent Posts
Exploring the Role of Monroe Calculators in 'Hidden Figures' and NASA's Space Rac …

2024 Ultimate Guide to Printing Calculators: Expert Insights and Selection Tips …

In today's fast-paced business world, an organized office isn't just a perk - it is a n …