Monroe's Digital Transformation: Moving Forward with You
It's No Secret...
Monroe, and the calculator industry in general, are not known for having cutting edge websites, email marketing, or social media accounts.
But we are looking to make a change in the coming years, and we want you to be part of it.
That's why I'm opening Monroe's doors for you and giving a little peak into our company.
As some of you may have seen over the past year or so, Monroe has implemented many new initiatives in an attempt to better connect and educate our customers. Some have been successful, like the recent Monroe Brightness Test, and some, well, not so much (let's not talk about the now extinct, Local Launch). But every success and failure has served as a learning lesson for us: they've taught us that Monroe needs to adapt to survive in today's ever-changing business landscape.
That's why we attended Digital Summit this year.
What is Digital Summit?
Digital Summit is a leading national marketing conference that travels across the U.S., teaching marketers the upcoming digital trends and strategies. It enables businesses like us to get and stay ahead of the curve. In the world of marketing, this conference is a huge deal. And this year, Jason and I were lucky enough to attend it.
What did we learn?
The conference covered a range of topics from emails, to website organization and development, to the customer journey. We went in with the goal of applying these topics to our digital strategies and learning better ways that we can connect with you, our customers. We want to make your experience with Monroe easier, more enjoyable, and just as satisfying as ever.
What does this mean for you?
You may have noticed it already, but this means that we will be creating and implementing many new strategies on the digital front.
Website
We have cleaned up our website, adding better resources to the "Learn" section and ensuring that we are showing you the most relevant content possible.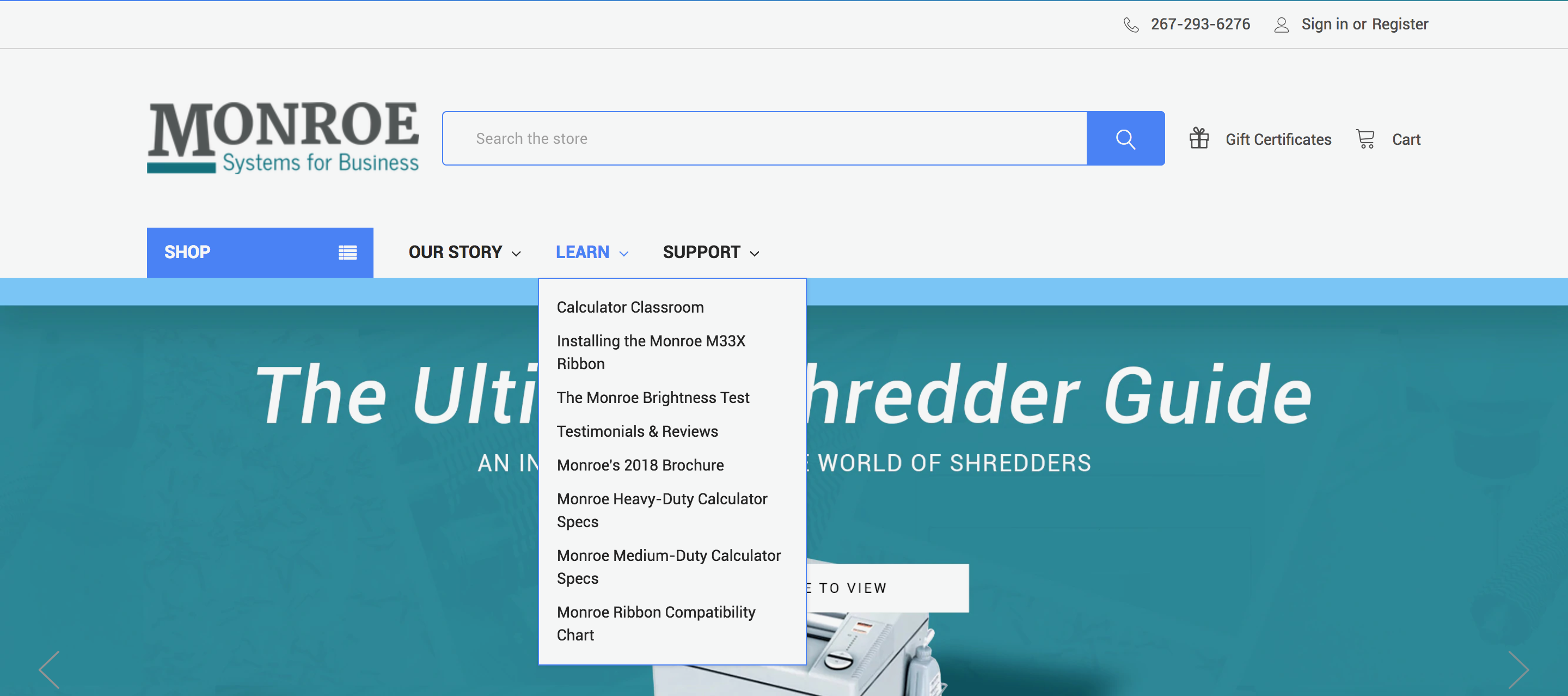 In the future, you can expect to see more updates and video content, to make information about our products more accessible.
Email
Our email strategy is going through a massive overhaul. Gone are the days where we send you long strings of sales and promotions. Gone are the days where our emails sound robotic.
Say hello to the days of relevant content, personable language, and emails catered to your needs. You can expect to see new formatting, more how-to's, guides to shopping, glimpses into our business and community outreach, and yes, maybe even some special sales for our Monroe Members.
Social Media
We plan to make a concentrated effort to provide you with valuable tools and posts through social media. We know we've slacked in the past, and we can admit that this hasn't been one of our strong suits. We haven't provided you with enough reason to give us a follow or interact with us. We are going to change that. Don't believe me? Check out our newest Facebook post for a sample of what we are going to provide.
You can follow Monroe on LinkedIn, Facebook, Youtube, Twitter, and Instagram for more!
So what do you need to know about us going forward?
Monroe has faced some distinct challenges over the two-years I've been here. We've built a reputation based on having the best-performing, and longest-lasting calculators on the market. We love hearing stories about how our customers are still using their calculator from the 1970's (recognize any of these?). But the longevity and durability of our calculators means that we need to find additional ways to connect with our customers. It's like having the problem of our products being TOO good! Certainly not the worst problem in the world to have, but it has presented us with a unique set of challenges.
To remain relevant in the coming years, we are taking a more customer centric approach, where we interact, engage and provide you the most relevant content possible on digital mediums and through our customer support team.
Welcome to the new Monroe. A Monroe that stays true to who we are, while becoming more open, transparent, and connected. A Monroe that maintains it's top-of-the-line quality, excellent customer service, and dedication to our customer base, while bringing about new initiatives, content and ways to connect with us.
These are exciting times for us as a company. But despite all the changes, we promise to stay true to who we are and remain the Monroe you've always known. Get ready to embrace the future with us!
Recent Posts
Exploring the Role of Monroe Calculators in 'Hidden Figures' and NASA's Space Rac …

2024 Ultimate Guide to Printing Calculators: Expert Insights and Selection Tips …

In today's fast-paced business world, an organized office isn't just a perk - it is a n …