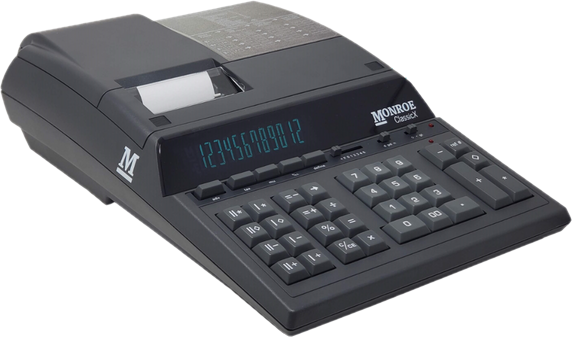 The Monroe ClassicX is the latest addition to the Monroe line of printing calculators, and boasts features that are incomparable in the world of calculators. The ClassicX marks the return of our most popular calculator model and is the result of decades of listening to the needs of customers, carefully designing, and building machines to meet those needs.
One of the key features of the Monroe ClassicX is its famous IKT (Individual Keyswitch Technology) which provides a velvet touch to the keys, making them more responsive than any other printing calculator brand. The touch of the keys is truly unmatched, and you will feel the difference as soon as you start using the ClassicX.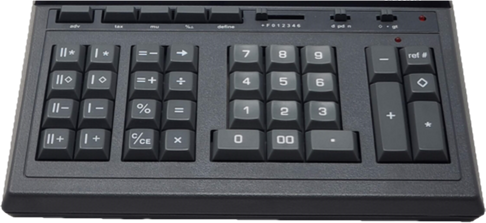 The ClassicX also has a print speed of 5 lines per second, which is faster than most other printing calculators on the market. This means that you can quickly and efficiently complete your calculations and print out the results.
The display is also noteworthy. It is large and fluorescent blue, with each digit measuring 5/8ths of an inch. This makes it easy to read the results of your calculations, even in dimly lit environments. Additionally, the ClassicX allows you to select between a running subtotal or the last entry to show on your display, providing even more flexibility.

Another great feature of the Monroe ClassicX is its enclosed paper roll. This design helps to protect the paper roll from dust build-up, and the enclosed design makes it easy to change the paper roll when needed. The ClassicX also has a red LED indicator that alerts users when an active calculation has not been totaled yet, so you never have to worry about accidentally losing your work.
The Monroe ClassicX also has a unique feature that automatically prints and advances the tape above the tear-off knife on a single press of the total key, eliminating the need for manual paper management. This feature can be turned off if desired, which can help to save paper and reduce paper management.
It features a hidden storage compartment for a spare paper roll and a twin-spooled ribbon to reduce downtime retrieving supplies. This feature is extremely convenient and helps to keep your workspace organized.
Similar to our other heavy-duty models, it has (2) 4-key independent memories that will allow users to simultaneously run multiple calculations. This is a great feature for anyone who needs to work on multiple calculations at the same time. Additionally, the ClassicX has an independent operation of multiplication and division, which enables users to multiply and divide without interfering with their addition and subtraction totals.
Overall, the Monroe ClassicX is an exceptional printing calculator that offers unmatched functionality and features. It is the perfect choice for anyone who needs a high-quality, reliable calculator for their business or personal use.
In terms of recommended supplies and accessories, we recommend using 2 ¼" x 150′ Paper Rolls, which are universal premium 15 lb. or 20 lb. single-ply paper rolls for calculators. We also recommend using Monroe P65M Ribbons, which are compatible with all Monroe X Series printing calculators.
For those who are using the ClassicX in a busy work environment, we also recommend using the Large Elevation Wedge, which is designed to elevate heavy-duty calculators to a more comfortable angle, reduce noise, and protect your desktop surface. The Calculator Supply Kit is also a great option for those who are just starting out, as it includes all the necessary supplies, such as ribbons and paper rolls.
Looking to save on your purchase? Be sure to grab our ClassicX bundle to get a foam elevation wedge, 6 P65M ribbons, and 12 Premium Paper Rolls. This bundle comes with everything you need to keep your ClassicX fully functioning for several months without the need to order more supplies.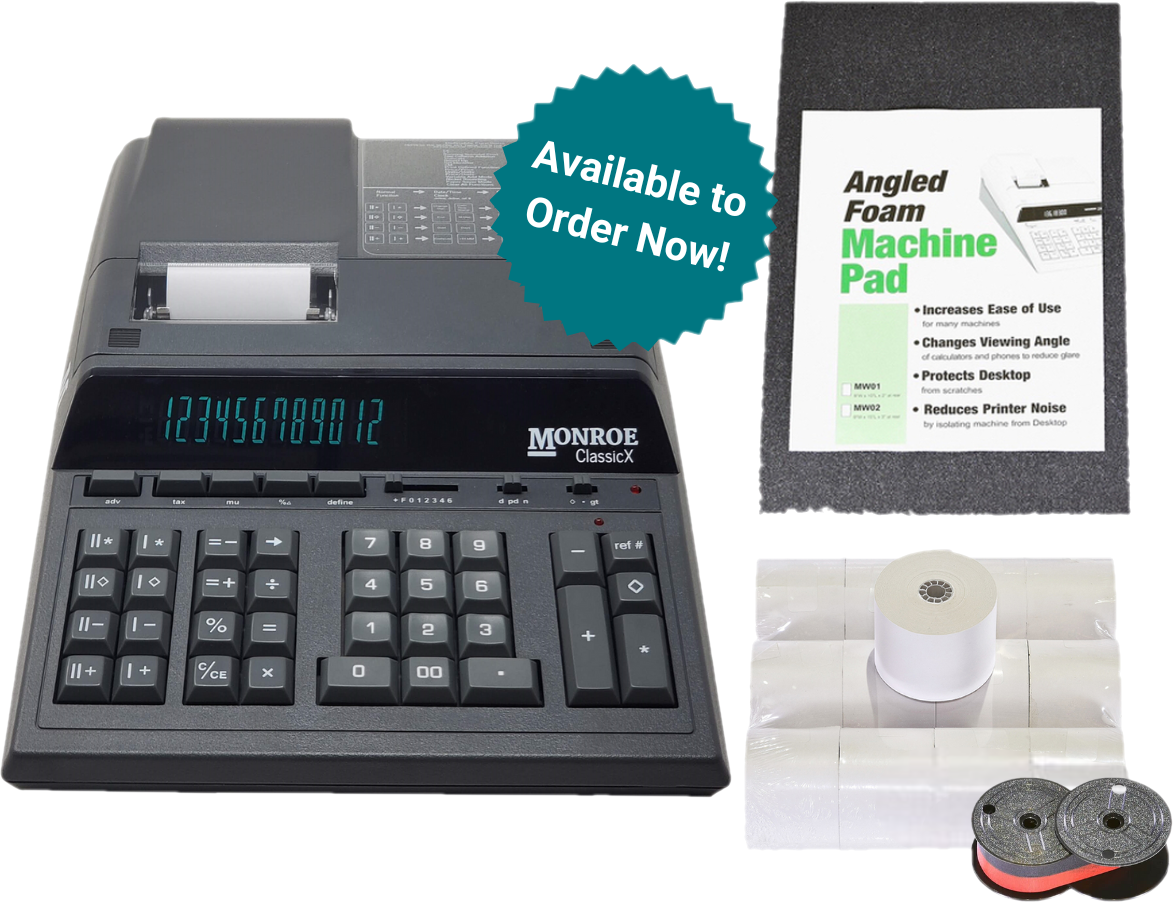 The Monroe ClassicX is a top-of-the-line printing calculator that is packed with features that are unmatched by any other calculator on the market. Its touch key technology, fast print speed, large and easy-to-read display, and convenient features such as, an enclosed paper roll and hidden storage compartment make it a must-have for any accountant.
If you are looking to upgrade your current calculator or get one for the first time, the ClassicX is definitely a great option. Now that it is released you can order yours today! We are so excited for you to have the opportunity to try it.
If you have any questions about the Monroe ClassicX or any other questions you may have, please feel free to contact us through our live chat, by phone at (267) 580-2600, or by email at jmarsdale@monroe-systems.com, Monday through Friday 8 AM - 5 PM.
Recent Posts
Why a Dedicated Handheld Calculator Outshines Your Phone's App In the age of s …

Printing Calculators in the Modern Age: Who Uses Them and Why? As we immerse …

The Unparalleled Advantages of Printing Calculators Over Excel …