The Exact Cut You Want
Paper trimming equipment is an essential tool for any professional or hobbyist who needs to cut paper, photographs, or cardstock accurately. Our website offers various types of paper trimmers that cater to different needs and preferences. In this blog, we are showcasing four popular paper trimmers from Dahle, a trusted brand known for its precision and durability.
The Dahle 508 Paper Trimmer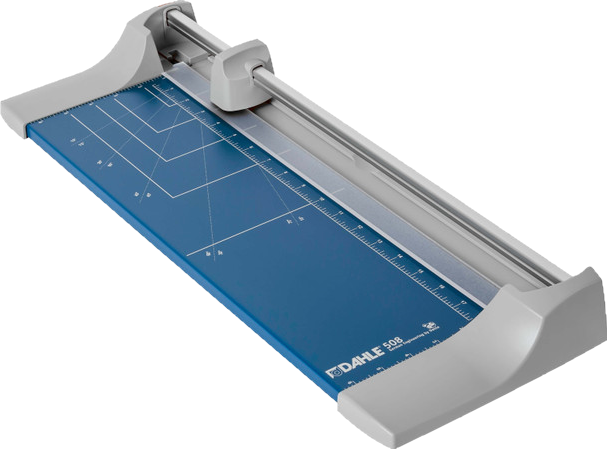 Looking for a lightweight, portable cutter? Try the Dahle 508 Personal Rolling Trimmer. With an 18" cutting length, the Dahle 508 can trim up to 7 sheets of paper at a time, making it an excellent choice for home or small office use. Its self-sharpening blade ensures that the cutter's precision graduated edge removes even the tiniest sliver of paper to produce a clean, burr-free cut. Additionally, the automatic clamp prevents the work from shifting, providing even pressure for a more accurate cut. The metal base offers durability, and the alignment guides make it easier to align cuts. The Dahle 508 is a popular choice among photographers, craft enthusiasts, and office professionals who need precision and convenience in one package.
The Dahle 472s Paper Trimmer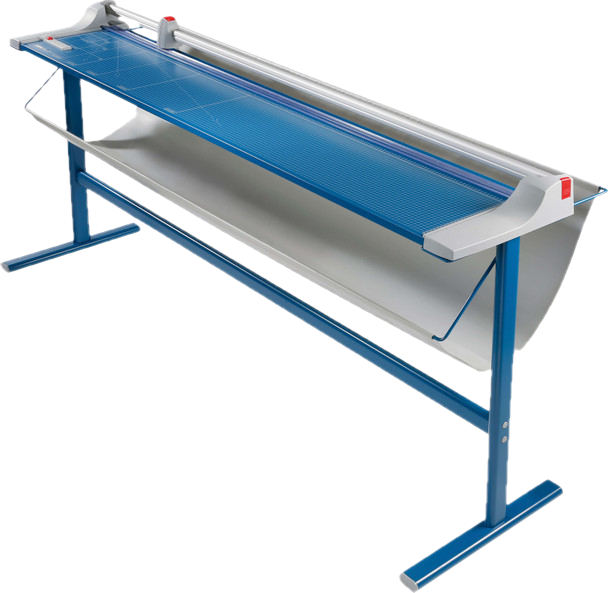 If you're cutting thicker cardstock or matboards the Dahle 472s Premium Rotary Trimmer would be perfect for you. With a cutting length of 72", the Dahle 472s can trim up to 12 sheets of paper at a time, making it a popular choice among professional photographers, print shops, and graphic design agencies. Like the Dahle 508, the Dahle 472s also features a self-sharpening cutting system, an automatic clamp to prevent shifting, a metal base for durability, and alignment guides for precise cuts. It also includes a space-saving stand to ensure optimal cutting height, making it a convenient and efficient choice for high-volume cutting needs.
The Dahle 440 Paper Trimmer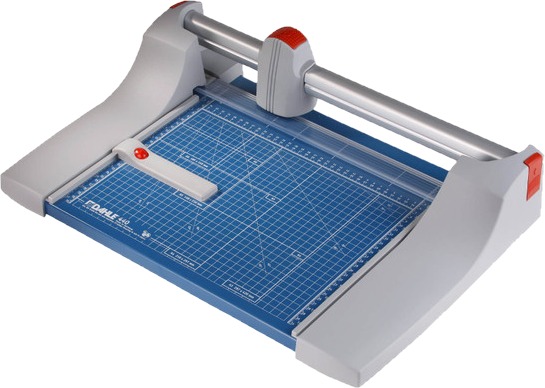 Need more of a hybrid between the convenience of a portable trimmer and the precise of a professional cutter? Try the Dahle 440 Premium Rotary Trimmer, with a cutting length of 14", the Dahle 440 can trim up to 30 sheets of paper at a time, making it a popular choice among schools, offices, and print shops. Its ground steel blade and automatic clamp ensure that each cut is precise and accurate, while its sturdy metal base provides stability and durability. The Dahle 440 also features alignment guides for precise measurements, making it an excellent choice for cutting paper, photographs, and cardstock.
The Dahle 842 Stack Cutter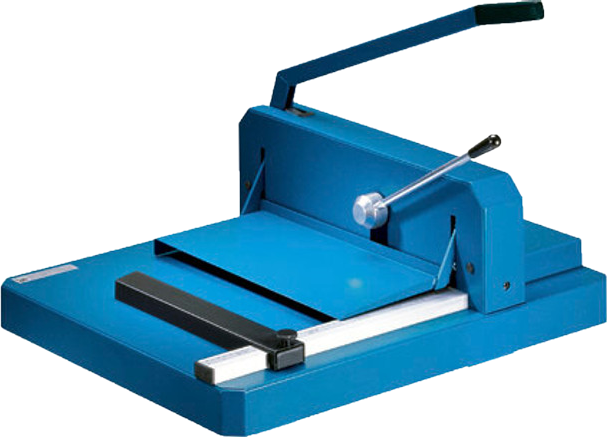 Last but not least we offer the Dahle 842 Professional Stack Cutter. This cutter is designed for high-volume cutting needs and can trim up to 200 sheets of paper at a time. Its precision-ground, solingen steel blade ensures a clean, straight cut every time, while its spindle-driven back gauge allows for more precise cuts. The Dahle 842 also features a sturdy metal base, alignment guides, and an adjustable paper clamp to keep the work secure. This cutter is an excellent choice for print shops, graphic design agencies, and other professionals who need to cut paper in large volumes.
If you are looking for a reliable and durable paper trimmer, Dahle is an excellent brand to consider. Their paper trimmers are engineered in Germany to provide precision and durability, making them a popular choice among professionals and hobbyists. The best place to buy Dahle paper trimmers is our website, as we offer a wide range of Dahle products at competitive prices. Whether you need a portable trimmer for home use or a professional cutter for high-volume cutting needs, Dahle has a paper trimmer that will cater to your needs.
If you have any questions about the Dahle Paper Trimmers that we have, please feel free to contact us through our live chat, by phone at (267) 580-2600, or by email at jmarsdale@monroe-systems.com Monday through Friday 8 AM to 5 PM EST.
Recent Posts
Exploring the Role of Monroe Calculators in 'Hidden Figures' and NASA's Space Rac …

2024 Ultimate Guide to Printing Calculators: Expert Insights and Selection Tips …

In today's fast-paced business world, an organized office isn't just a perk - it is a n …