Classic Cookie is a well-known purveyor of delicious, soft-baked, and mini-crispy cookies that are sure to satisfy any sweet tooth. Founded by Joey and Sharon Mannon who are a couple of baking enthusiasts, this company is dedicated to creating the best-tasting cookies using only the finest ingredients. Whether you're a fan of classic chocolate chips or looking to try something new, Classic Cookie has a flavor for everyone.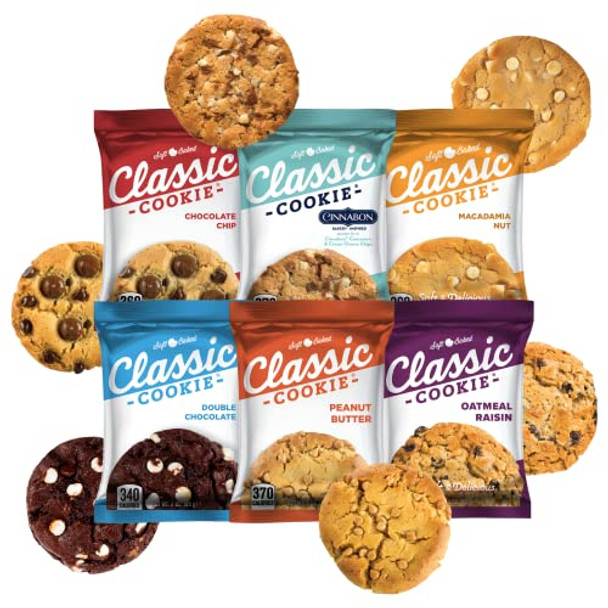 One of the things that set Classic Cookie apart from other cookie manufacturers is the wide variety of flavors they offer. From the Classic Chocolate Chip and Peanut Butter to more unique options like Brownie Rounds with M&M's and Snickerdoodle, there's a flavor to suit every taste. And if you're feeling adventurous, you can even try one of their Mini Crispy Butterscotch or Toffee Chocolate Chip flavors. This is just a small sampling of the flavors that Classic Cookie features on our website. Be sure to go to our Classic Cookie page to find another flavor that you might also enjoy.
But it's not just the variety of flavors that makes Classic Cookie stand out. The company is also known for the high-quality ingredients they use in its products. From rich butter and creamy vanilla to premium, rich chocolate, and fresh fruit, every cookie is made with care and attention to detail. And because they are soft-baked, they are always fresh and have a perfect texture that is both crispy and chewy.
Another great thing about Classic Cookie is that they are sold on our website. This means that you can easily order your favorite cookies online and have them delivered straight to your door. This website is a great resource for businesses, as it is easy to use and can be used to order large quantities of cookies at once.
In addition to its delicious soft-baked and mini cookies, Classic Cookie is always coming up with new and exciting flavors. They have a team of dedicated bakers who are constantly experimenting with new recipes and ingredients to create the next great cookie. This means that there's always something new to try from Classic Cookie, making them a great choice for anyone who loves to try new things.
If you're a fan of delicious, high-quality cookies, then look no further than Classic Cookie Company. With a wide variety of flavors, premium ingredients, and a commitment to innovation, this company is sure to have something that will satisfy your sweet tooth. And with the convenience of buying them on our website, it's never been easier to enjoy a Classic Cookie cookie.
We are happy to be able to provide our customers with the delicious flavors of Classic Cookie. They have some of the best cookies around and it is so much better having the option to have them delivered right to your doorstep. So you never even need to leave your home to get a tasty snack.
If you have any questions about Classic Cookie or your order please feel free to message us through the live chat feature. You can also call us Monday through Friday from 8 AM to 5 PM at (267) 580-2600. We are always happy to help with any questions or issues you may have.
Recent Posts
Why a Dedicated Handheld Calculator Outshines Your Phone's App In the age of s …

Printing Calculators in the Modern Age: Who Uses Them and Why? As we immerse …

The Unparalleled Advantages of Printing Calculators Over Excel …